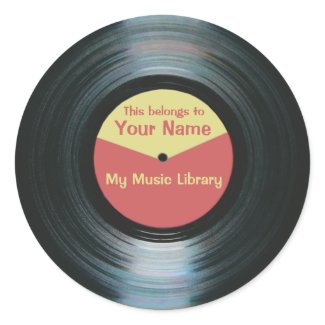 Keep track of your collection of CDs DVDs and Vinyl LP Albums or your library of books with this fully customizable sticker that you can personalize.
The design features a circular gramophone record to use as a label for all music in your library or collection of music. It looks like a vinyl or phonograph record from the era of the record player notable from the terminology - 33rpm, 45 rpm or 78rpm, long and medium play, mono, stereo and quadrophonic quality.
The disk's surface is black with light reflected off the spiral groove and a center label in yellow and red surrounding the hole about which the record rotates.
Easy to customize with your name and text - If you are a collector of music you could mark all media, whether vinyl gramophone records, music CDS or DVDs in your music collection or library with your name, so that others know it belongs to you. If you own a book collection then this can easily be used as bookmark labels for books in your collection. If you are a musician, DJ or a music promoter buy in bulk purchase for your fans or clients as a business marketing tool, adding your own 'record label' or logo to the label. The more you buy the less you pay.